Ok, so when Brett met me I had never really been camping before.  I know, even I am kind of shocked by this revelation.  I was never a girl scout and our family vacations were road trips from one bed and breakfast to the next.  Honestly Brett was pretty floored that I was a camping virgin.  It was quite the contrast from his boyscout summers spent backpacking for days, sleeping under the stars and foraging.  Oh wait your not supposed to forage… oops.
He eased me into the campers lifestyle.  On our first trip we car camped and slept on an air mattress in the bed of the truck.  During our second camping trip he had me set up the tent.  I think he spent a lot of time laughing while I tried to figure out where all the polls went and got tangled up in the rain fly.  There was definitely some pouty lip and foot stomping the first couple times I set up the tent, it is so much easier to just blow up an the air mattress in the back of the truck and be done with it.
Brett is our master cooker because my camp cooking skills consist of roasting marshmallows and boiling water.  He is also the official fire starter and he usually has to pick out where the tent is going to go.  The few times he left if up to me we ended up on a hill or somewhere quite lumpy.
Well a year ago today we took our camping skills to the next level and hiked into Havasupai Falls in the Grand Canyon.  To get down to the waterfalls and camp sites it's a 13 mile, 3000 vertical foot hike down switchbacks, over rocky terrain and through the canyons. Due to the extreme Arizona heat our little group opted to make this hike in at night, beginning our descent at 2:30am.
Brett and I managed to bring all the wrong gear.  Our camp stove was to big, our tent was heavy and leaked when we got a fluke rain storm, and our campers pot set got stuck inside of each other making it impossible to cook.  But we had the time of our lives!  The air was hot on our skin and the water chillingly perfect.  We visited all of the waterfalls and wished we had more time to visit them all again.
When we decided to go with our friends to Havasupai we knew it would be the trip of a lifetime and we probably wouldn't return.  But I think back on our trip often and I'll admit that I'm starting to get the itch to go back.
We wanted to post this to share what an amazing time we had.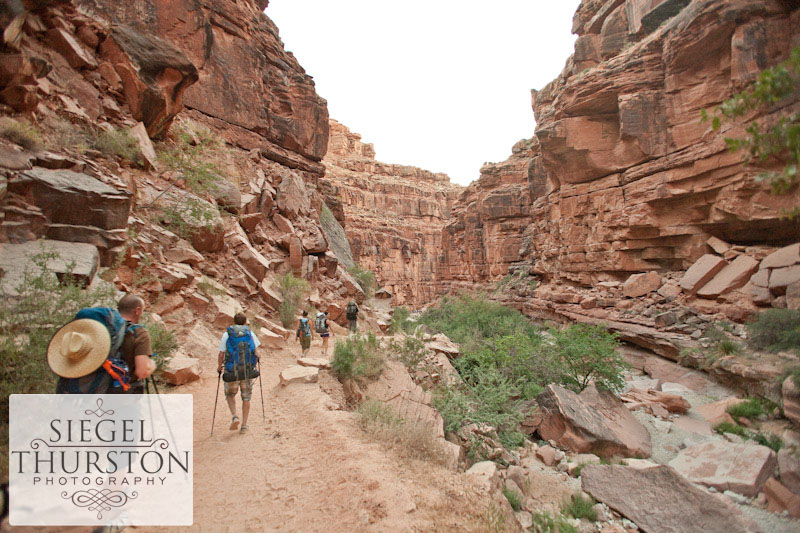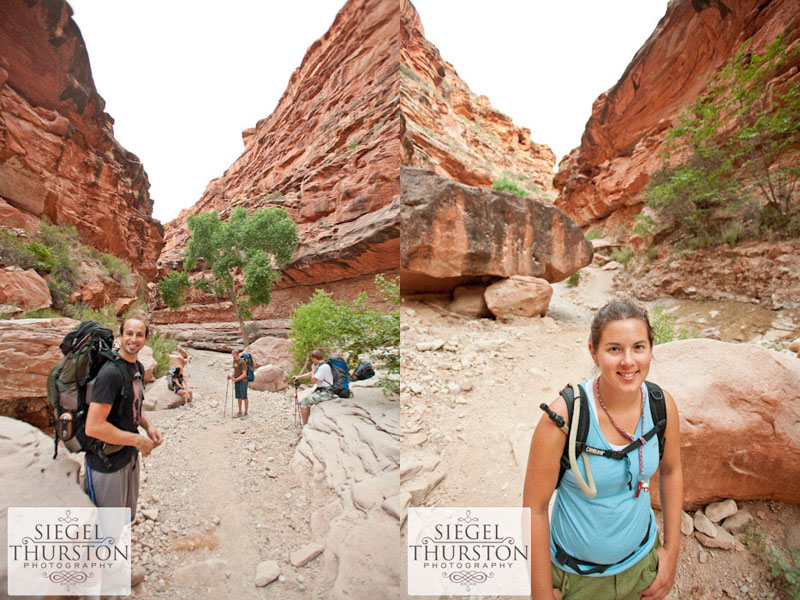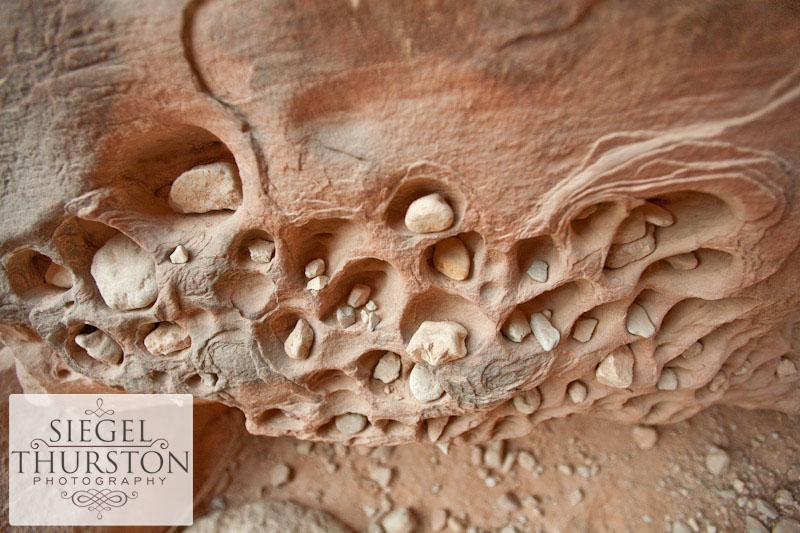 We followed the tradition and placed rocks in the wall.





The Pony Express still exists!  We totally should have mailed a letter.




Our first look at Havasu Falls












We saw quite a few wild horses (or somewhat wild) running around.




Our camp site across the river.



My green floaty! We found a rock to tie it to.  But after the rain storm we came back to find a tree had fallen on it.


Not our dog…
 He liked hanging out in our camp site though.


The Gang!


Airing out our sheets after the fluke rain storm that flooded our supposedly water proof tent.


Come on guys can't you see i'm trying to take a picture here.



Exploring the old mines.  It was a pretty creepy thing to do at night.  But I can't imagine that it would be much less creepy during the day.







Mooney Falls



Take a right down through the dark cave and then scale the cliff holding onto the chains as you go to get down to Mooney Falls




Can you spot Brett, Ashley and Jenna?


How about now?



Yep sometimes we take ourselves a little to seriously.





Lower Navajo Falls






Upper Navajo Falls on our last day.

Looking down at what we hiked out of.


We left the camp sites at 1 am to make the hike back out of the canyon and this fella walked with us all night guiding us back to the cars.  When we made it to the top he took a little nap, drank some of our water and then walked back down the trails with a new set of campers.


It would be an understatement to say that we were all tired.






More cute resi dogs


Related posts: